It's there, in my mind. Yes I am thinking of you, April 22.
It was just after Easter, around noon, on a Tuesday. I hate Tuesdays. They called me down to the office. It was urgent. I felt like a million bucks just like any 7-year old who gets to leave class. The scene was so surreal. My aunt stood there, overwhelmed with tears and sorrow, but she was not alone. Beside the leftover Easter decorations, there was the two office ladies' faces, the ones who I had seen almost every day of school and belonged to the class of "adults" who never showed expression and seemingly lived at that desk, yes those faces now streamed with tears and messed up mascara, the unbearable mortality emanating from every soul within each pair of eyes in that room. And then,
a pause.
No one could bring themselves to tell me. Oh, that memory is so clear. By the time all the sniffles and hesitation and slow phrases were over, I couldn't believe the words. They echoed in my head like my brain was an asylum prison cell with no windows. Like a recording studio with broken microphones from all the tears. She was gone? No. The hospital must have saved her. A group of doctors who went to school for it, lost sleep for it, spent their careers to save lives. I was so confident. I even told her I was okay enough to go to school. She said she was glad I was doing well in school, and wanted me to be happy there.
That was the last conversation we ever had.
I remember.
I remember your nickname that only you had for me, the one you would say as I ran into your arms when I came home from school. I remember your hair and your laugh and your smile and how everyone complimented on them. I remember how you complimented others too, on seemingly the most strange and simple things, but it was so genuine that they loved it. I remember looking at the way you treated him and thinking to myself that it was beautiful. I remember all our time in the car together and that one crash that wasn't your fault but you weren't angry with the other person. I remember the Cayenne Pepper punishments when we were misbehaving. I remember the Flintstones vitamins you made sure we had every morning. I remember the incredible joy from doing nice things for you, because I wanted to. I remember how sick you were with each pregnancy, and the look of pain it would put in your eyes. I remember the expression of joy after you gave birth that radiated so brilliant it made up for all that pain. I remember that Easter, when you told us about love and remembering Jesus and how he died because he loves us. When you told us that you wouldn't trade the world's riches for us, and I believed you.
Yet I remember.
The ride with my aunt that I would rather have been riding with you. Even if we had to be in another car crash.
The desperation of trying to find solid ground when my heart was trembling from the after shocks that earthquake caused. There was no Richter Scale to measure the way I felt.
The way I was treated as an unfortunate case and no one cared to help make reality consistent again.
How I had never seen a grown man cry til then, and the emptiness in my dad's eyes.
All the meals the neighbors made for us, but no matter how delicious, it wasn't your cooking.
I remember the empty seat at the table, the extra Christmas stocking, and how we now fit in the side row at church. And how I hated that.
The next morning you didn't take a shower. You didn't wash your hair. You didn't pack me a lunch with the note on the napkin you include. You didn't kiss your husband before he left for work that day. Or the day after. When I began to doubt God and my beliefs. My baptism that you couldn't come to. Or the school play. And how I was the only kid by himself for Muffins for Mom.
I can't forget when I first realized I knew an angel. I can't forget you, but the memories are slowly fading away.
But I remember that I'll always hate Easter.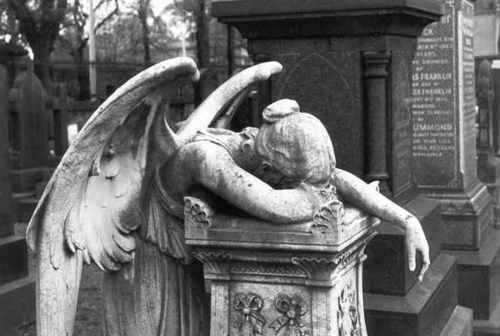 - Insolence is Bliss